The igambling industry is always evolving, which is a good thing for the players. As casinos compete for your business, they come up with interesting new ways to drum up business and give players a more well-rounded experience.
Live dealer roulette sites are a perfect example of how things change in the industry. It wasn't long ago when online roulette relied on computers and random number generators to bring casino games to your screen. But now, that's a thing of the past. Now, we have live games complete with real roulette tables, human dealers and live video feeds.
Live dealer games go a long ways in assuring players that the games are indeed fair and random. Being able to watch the ball spin around a real roulette wheel in real time lends some degree of credibility to the whole experience. However, that alone isn't enough to guarantee a positive experience. Discretion is still advised when choosing where to play.
Even when games are 100% fair, you still have to deal with withdrawals after you're done gambling. Not all casinos are equal in this regard. Unfortunately, there are a few bad apples out there that seem to focus on capturing deposits but expend little energy in making sure players get paid quickly. The key to making sure you get paid quickly is to only bet at casino sites that have a history of processing withdrawals in a timely manner.
All live dealer roulette websites on this page has consistently shown the capability and willingness to pay winners quickly. These reputations have been built over many years and countless withdrawals. These are not brand new casinos; these are some of the oldest and most trusted names in the business.
Beyond that, these sites are also ranked according to the game quality. The best live dealer roulette sites provide high quality video, easy-to-use software and fast cashouts. So if you're looking for a place to play live dealer roulette online, these are the sites you should consider first.
What It's Like to Play Live Dealer Roulette
With the help of webcams and experienced casino dealers, casino websites can now deliver an online experience that closely resembles the real thing. Live dealer roulette works by pairing human dealers with webcams to handle your bets and spin the wheel in real time before your eyes.
What we have now are roulette games that rely on old-fashioned physics to provide the players with random results. Instead of hoping the computer gives you a lucky payday, you can now watch as a real ball is dropped into a spinning roulette wheel and slowly comes to rest in one of the numbered slots. It's as close as you can get to the real experience without leaving the house.
Here's an example of what live dealer roulette looks like when played online: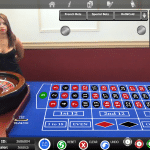 As you can see in the picture above, live dealer roulette uses a combination of live video and digital betting interfaces to make it all work. On the left side, we have a real dealer and an actual roulette wheel. On the right side is a digital betting interface that lets you place your wagers with your mouse and keyboard.
You will see different setups at different casinos, but the basic idea is the same everywhere you go. There's a real person, a table and an area that you can use to place your bets. After you and the other players place your bets, the dealer will drop the ball and let gravity work its magic.
Most casino sites also provide a smaller video feed that shows an up-close view of the roulette ball so you can clearly see where it lands. Sensors then relay that information to the computer and your bets are paid automatically.
Some (but not all) operators include chat software that you can use to speak with the dealer and other roulette players. You can root for each other, talk a little smack and tell the dealer what a great job she's doing. This is quite a departure from the days past in which all online roulette tables were 100% solitary.
One other thing you will notice with live dealer roulette is that the betting limits tend to be a little higher. Traditional online roulette almost always has a minimum bet of one dollar, but I've noticed live dealer tables usually start out at $5 per round. Additionally, the maximum bet goes a little higher – sometimes as high as $500 per round.
All in all, live dealer roulette is a fun experience. The game moves a little slower than basic online roulette, but it makes up for that with a much more immersive experience. A smiling dealer, the sounds of the casino and other players all combine to make it feel like you're really playing at a brick-and-mortar casino.
Bonuses and Promotions
Roulette generally isn't a very bonus-friendly game thanks to its low house advantage. Read through the terms of most bonus offers and you'll see that roulette cannot be played to clear bonuses. However, you will occasionally find small and short-term promos designed specifically for live dealer roulette.
The goal of these smaller and short-term promos is to generate interest in the game and get people to try live dealer roulette. It's not uncommon to see offers such as a free $25 wager that you can use at the live dealer roulette table if you make a real money deposit. The total dollar amounts aren't mind-blowing, but it's nice to get a little something extra – especially if you're not entirely sold on the game.
For the most part, you'll play all types of online roulette without the benefit of bonuses. My advice is to just enjoy the game for what it is and have fun recreating the live experience at home. Any bonuses that happen to come along are just extra icing on the cake. It's a unique experience and the closest thing you'll get to the real deal without driving to the casino.
Wes Burns co-founded OnlineCasinoSites.com with a mission to help gamblers understand and navigate the regulated online casino market in all countries around the world.  Wes is a respected gambling journalist, working in the industry since 2008.