Online gambling is such a mainstay industry these days that it's easy to forget the industry didn't even exist a mere 25 years ago. If you want to feel old, just think to yourself that there are now people old enough to drink who weren't even born when the first online casinos opened their doors for business back in the mid-90s. Yikes.
Tracking down the oldest online casinos is a bit of a chore due to the digital nature of the business and the primitive state of the internet back then. Many details have been lost over the years, but we do have some fairly solid leads regarding the oldest casino sites that are still in operation today. Whether you're here out of pure curiosity or you feel safer at well-established gambling sites, today's post will introduce you to the first online casinos and name those that are still in operation to this very day.
I've also managed to scrap together a few images of what these online casinos looked like way back in their younger days thanks to the internet's Wayback Machine and some screenshots saved by the casino sites themselves. My apologies in advance for the low-quality resolutions and missing images in some of these screenshots.
The First Casino Sites
There is a little debate as to whether InterCasino or the Gaming Club was the first online casinos to open its doors. Most sources agree that InterCasino was the first, although the Gaming Club claims that title as well. In either case, both casino sites were among the very first to hit the internet.
InterCasino: 1996
The history of InterCasino is well-documented and easily corroborated by other sources such as the Wayback Machine and other industry companies. Although the Gaming Club still claims to have opened a full two years earlier than InterCasino, evidence for their claim is flimsy. Therefore, we can consider InterCasino to be the first documented online casino in the world.
CryptoLogic and its subsidiary company WagerLogic began developing casino software in 1995. WagerLogic then launched InterCasino in November of 1996 and the casino has been going strong ever since.
What it looked like then: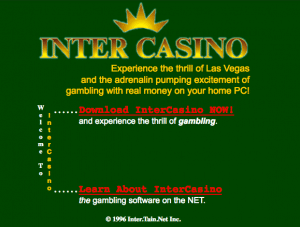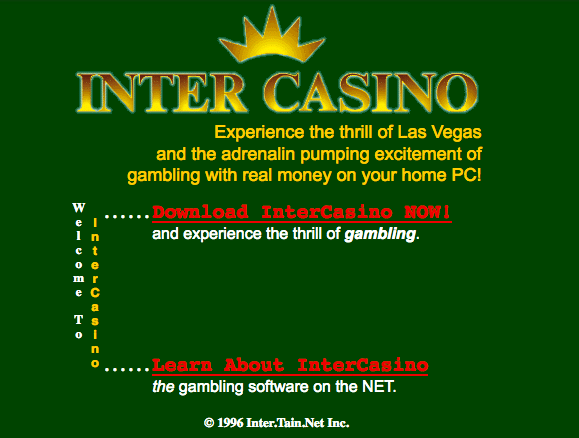 https://web.archive.org/web/19961230044247/https://www.intercasino.com/
InterCasino Today
InterCasino is alive and well to this day. Many gambling websites still recommend InterCasino on the basis of its game selection and longstanding reputation for fair gaming. They are clearly doing something right to be going strong all these years later in an industry marked by frequent bankruptcies.
The Gaming Club: 1994 (disputed)
The Gaming Club states on its own website that it went live in 1994, but they offer few details as to their history beyond that little tidbit. Gaming Club is powered by Microgaming software and Microgaming claims to have started the first online casino in 1994, but Microgaming does not name that early casino site. It's possible Microgaming launched the Gaming Club back in 1994, but it is difficult to verify that claim.
The Wayback Machine only has results for the Gaming Club going back to 1998, but that is hardly an indictment. The Gaming Club could have operated on a different domain or the Wayback Machine may have been unable to archive the website in its earliest years of operation.
What it looked like then: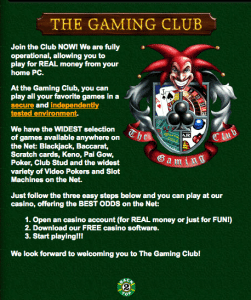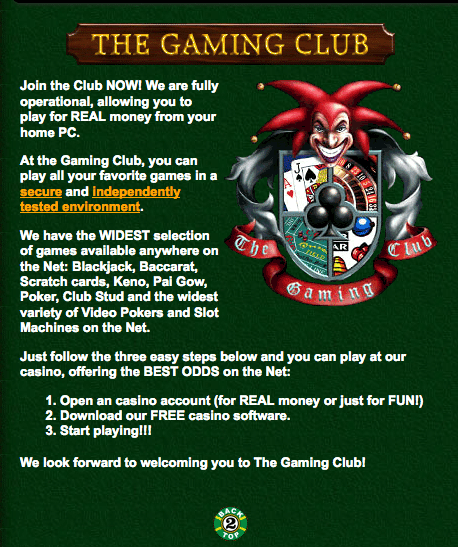 https://web.archive.org/web/19980110163212/https://gamingclub.com/
Gaming Club Casino Today
Gaming Club Casino has come a long way since its website looked as it does above. They have managed to stay in business the entire time and have grown considerably since going live. Today, Gaming Club Casino is home to more than 500 casino games and has been translated into 17 different languages.
Oldest Online Casino Honorable Mentions
Once we move beyond the InterCasino and Gaming Club years, placing the founding of online casinos in chorological order becomes a much more confusing task as many, many online casinos began opening their doors in quick order. A CNN report from 1998 stated that there were at least 140 casinos in operation by 1998 with revenues for the industry that year estimated to top $600 million.
River Belle Casino, Jackpot City, Lucky Nugget Casino and Slotland all deserve honorable mentions in this regard. The oldest of the bunch is River Belle Casino, which went live in 1997. Jackpot City, Lucky Nugget Casino and Slotland all opened in 1998. All four of these casino sites remain in business to this day.
River Belle Casino: 1997
River Belle Casino proudly dates itself back to 1997. The Wayback Machine only has snapshots going back to 1999, but information on River Bell's history page seems to add up to support this claim. They even have a small picture of what the website looked like back in 1997 and explain that website underwent a major update in 1999. This all seems to line up with their 1997 claim.
What it looked like in 1997: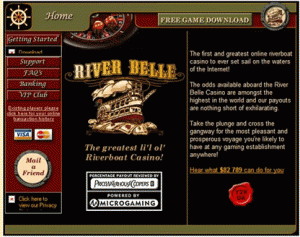 Picture from River Bell Casino history page.
What it looked like in 1999:
https://web.archive.org/web/19990508045520/https://www.riverbellecasino.com/
Omni Casino: 1997
Omni Casino went live in November of 1997 and is still operational (serving illegal offshore markets). What's remarkable is Omni Casino remains a trusted gambling site even after all those years. We have seen too many other cases in which a casino starts strong, but then a change in management or just failing finances sees that casino turn to the dark side.
Since going way back in 1997, Omni Casino has not suffered from any scandals, breaches of trust or other reputation-destroying issues. They are still one of our recommended casinos today.
Here's what Omni Casino looked like in July of 2000, 3 years after going live: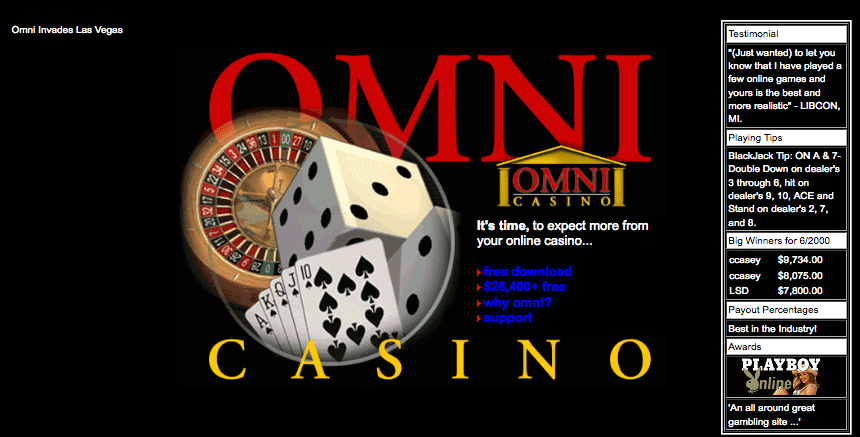 https://web.archive.org/web/20000707023939/https://www.omnicasino.com
Jackpot City: 1998
Jackpot City was founded in 1998 and has been in business continuously ever since. This was also one of Microgaming's earlier casino sites when it first went live as a download-only casino for Windows. Jackpot City openly accepted Americans at the time (remember, this was way before the UIGEA) and proudly boasted the world's first online progressive jackpot slot machine.
What it looked like in 1998: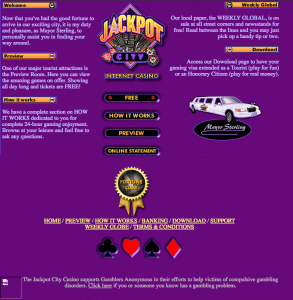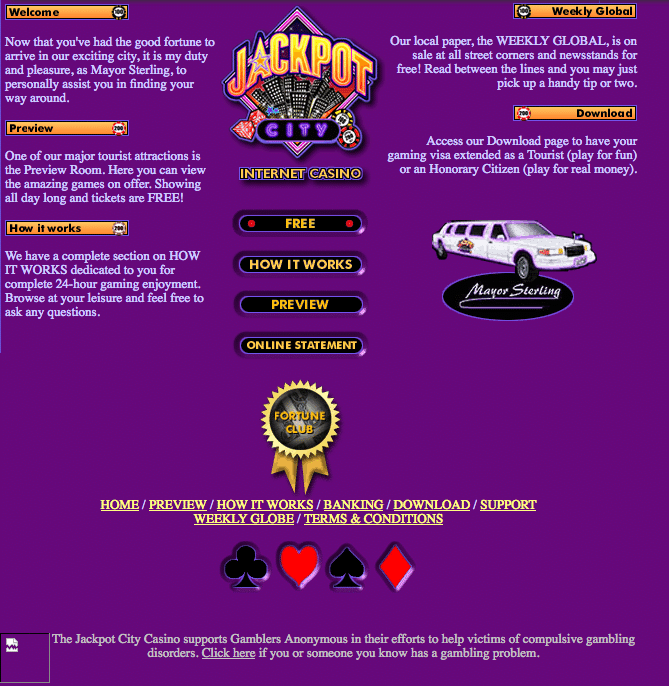 https://web.archive.org/web/19981205195557/https://www.jackpotcity.com/
Jackpot City Today
Jackpot City has a bit of a mixed reputation online with some reviews urging players to stay away and others endorsing the casino. Whatever the case may be, the Jackpot City website has certainly improved since it first went live in 1998. They no longer accept Americans and now provide 500+ online casino games of all types.
Lucky Nugget Casino: 1998
Lucky Nugget Casino opened for business in August of 1998 with software powered by Microgaming. The early version of Lucky Nugget was straight out of the 90s, but they ran the business well and kept up with the times to remain in business to this day.
What it looked like in 1999: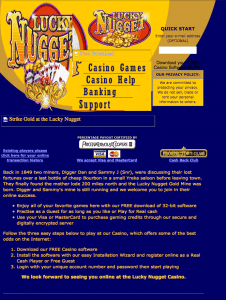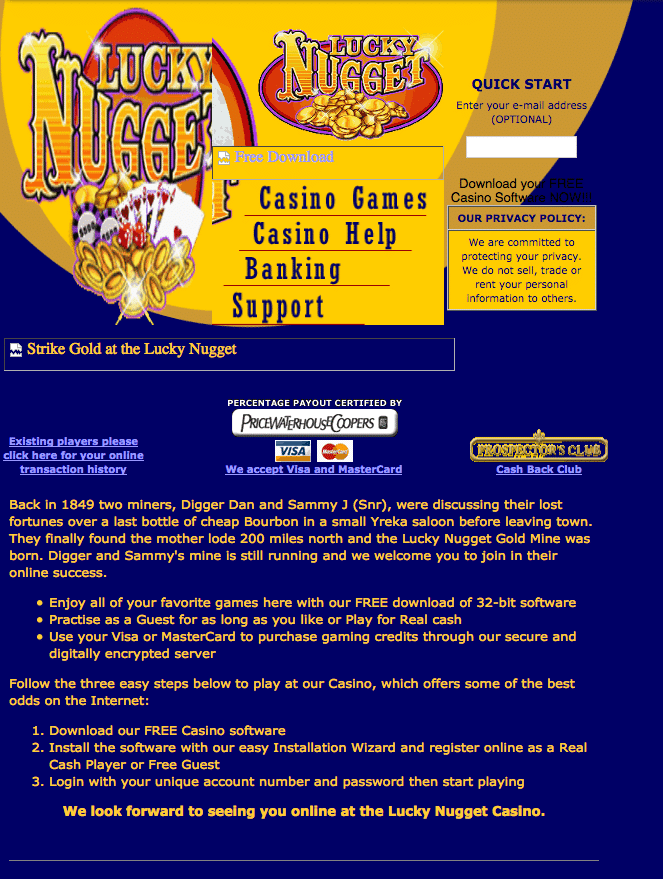 https://web.archive.org/web/19991005191138/https://www.luckynugget.com/
Note: Earlier versions of the Lucky Nugget website exist on the Wayback Machine, but display improperly, so we're showing what the casino looked like in 1999.
Lucky Nugget Casino Today
Lucky Nugget Casino moved to a new domain at LuckyNuggetCasino.com at some point and now operates a much more modern-looking website. However, even the website today looks a bit dated compared to some of the competition. Nevertheless, Lucky Nugget Casino remains a popular destination for gamblers.
Slotland: 1998
As you can see from the screenshot below, Slotland was definitely a product of the 90s school of internet design. They were ahead of their time in one key way, however: Slotland required no download as early as 1998 which made it compatible with both PCs and Macs. In fact, Slotland prided itself in even being compatible with WebTV.
What it looked like in 1998: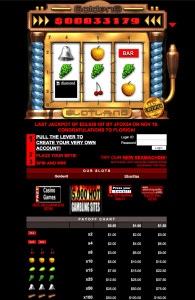 https://web.archive.org/web/19981212032835/https://www.slotland.com/
Slotland Today
Slotland chose to stay in the US market even after the passage of legislation in the United States that made Slotland's business model illegal. They moved to a new domain (Slotland.eu) to avoid the feds seizing their .com domain and putting them out of business. We have no association with Slotland and cannot speak to their quality, safety or legality. For what it's worth, most other casino websites seem to have a positive view of Slotland today.
Runner-Up: Monte Carlo Casino (1863)
Finished in 1863, Casino Monte Carlo is the gambling destination of choice for James Bond and international high rollers alike. This is one of the most luxurious casinos in the world, known for its opulent decorations and strict dress code.
This entry is a bit of a stretch because MonteCarloCasino.com was only established in 2012. However, Monte Carlo Casino is directly affiliated with its real-world counterpart in Monaco. This is not the oldest casino website, but its namesake does have a history that dates back more than 150 years.
The online version of Monte Carlo Casino serves up a variety of real money casino games from noted software developers such as NetEnt, Amaya Gaming and Microgaming. In fact, the online edition has an even bigger game selection than its real-world namesake – all provided at stakes high and low with no dress code enforced.
Oldest Casino Software Providers
The title of "oldest casino software provider" belongs to either Microgaming or CryptoLogic/WagerLogic. Both have a solid claim to the stake and the history is not perfectly clear, but both are well-established casino companies.
Microgaming: 1994
Microgaming claims that it created "the world's first true online casino" in 1994, but hard evidence is difficult to dig up. It's possible Microgaming is alluding to the Gaming Club which was also established that same year. I have no reason to doubt Microgaming, but the simple fact is I cannot provide completely, 100% irrefutable evidence that Microgaming is the oldest casino software provider.
Whatever the case may be, Microgaming was definitely powering casinos as early as 1996. Microgaming is still running strong today and its software powers hundreds of casino sites today. You may even recognize some of its more popular slots titles such as Jurassic Park, Playboy, Jungle Jim, Terminator 2 and the Castle Builder series.
Microgaming also runs a successful online poker network called the Microgaming Poker Network (MPN). At last count, 26 poker sites operate on the MPN. Some of the more well-known names on the MPN include PKR, BetVictor, NordicBet, 32Red and Betsson.
CryptoLogic / WagerLogic
CryptoLogic began life in 1995 as the creation of brothers Andrew and Mark Rivkin in Toronto. The company was originally formed as a general software security service, with secure online financial transactions one of its specialties. The brothers saw an opportunity in online gambling payments, and later created WagerLogic as a subsidiary to get into the casino software development business.
WagerLogic launched InterCasino in 1996 to create what they claimed was the world's first online casino. Over the subsequent years, CryptoLogic morphed into a full-fledged B2B casino software company while WagerLogic continued on as the B2C arm operating public-facing casino sites.
The Amaya Gaming Group acquired CryptoLogic and WagerLogic in 2012. They absorbed Cryptologic into their services and then sold WagerLogic and its subsidiary casino sites to a company called Goldstar Acquisitionco Inc. in 2014 for roughly $70 million. CryptoLogic no longer operates as an independent casino company today, but its legacy lives on in the hands of Amaya.
Wes Burns co-founded OnlineCasinoSites.com with a mission to help gamblers understand and navigate the regulated online casino market in all countries around the world.  Wes is a respected gambling journalist, working in the industry since 2008.