Up until a few years ago, online blackjack was always played with automated dealers and graphical representations of playing cards. That form of blackjack is still around, but now we have live dealer blackjack available at many casino sites.
What makes live dealer blackjack different is that it uses human dealers and real playing cards combined with live webcams to bring a more authentic casino experience to your computer. Instead of playing with a robotic dealer and pictures of cards, you play with a real person who handles real cards on video in front of you.
Best Live Dealer Blackjack Sites
It all works with the help of live, streaming webcams. In live dealer games, the casino sets up an actual casino with tables, dealers, cards and webcams. Meanwhile, you use your mouse to send commands to the dealer. So if you decide to hit, the dealer will see that and give you another card.
Some people feel more comfortable with live dealer blackjack because it has more of a physical aspect. You can see the cards and watch how the dealer handles those cards. This makes for a more realistic experience when compared to watching digital cards on a digital table.
The Live Dealer Blackjack Experience
The first time you play live dealer blackjack, you'll see that it's quite a bit different than the online blackjack you're used to. The first thing you'll notice is that there's a real dealer in front of you. It feels a little funny at first if you're used to playing at automated tables without dealers.
The next thing you'll notice is the noise. There's a lot going on at a live dealer table. Not only will you hear the dealer talking to players and wishing them good luck, but you'll also hear the cards sliding across the table, the shuffle machine in action and sometimes even the sounds of other games being played.
There's a little background noise because other games are usually being played. At a minimum, most casino sites have live dealer blackjack, roulette and baccarat. They put those games all in the same room just like a regular casino. I never found the background noise to be intrusive or annoying, but consider this a heads up so you know what to expect.
Interacting with the dealer is pretty simple. You don't need to type out commands or speak into a microphone or anything like that. You can just use your mouse to click the "hit" and "stay" buttons like you would in other forms of online blackjack. The difference here is that the human dealer will see those commands and then handle the cards accordingly.
I have even seen some live dealer casinos that have a muted television behind the dealer showing the news. This is done to show you that the games are indeed live and legit. However, I don't think it's a big deal because it's pretty obvious that the dealers are real people complying with your betting commands.
All in all, live dealer blackjack is closer to playing in person at a real casino than it is to playing at a regular online casino. The ambiance, smiling dealers and cards all make it feel like you're peeking into a real casino and relaying commands to someone on the inside. It's a cool experience and it's worth checking out if you have a chance.
Here's a picture of what it looks like in action: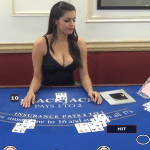 Pros and Cons of Live Blackjack
One downside to live dealer blackjack is that it moves at a significantly slower pace. Because it uses real dealers, you have to wait for the dealer to shuffle and hand out the cards to each player. Regular online blackjack moves quicker because the computer shuffles and handles the cards at superhuman speed.
A second "con" is that you have a time limit in which to make decisions. Live dealer tables are shared with other players and they expect you to help keep the game moving just like it would be if you played at a real casino in Vegas. Regular internet blackjack is played with just you and the computer, so you can take as long as you want to make each decision.
The advantages of live dealer blackjack are numerous. For one, it's a much more realistic experience. Being able to watch the dealer, send her commands and watch her deal the cards feels just like playing at a casino.
It can also be nice sharing the table with other players. Yes, that does make the game run slower, but it also adds a social element to the game. Regular online blackjack is a solitary experience. When you play and chat with other people, it doesn't feel so darn lonely.
And finally, some people find it easier to trust live dealer blackjack. I personally don't have any issues with regular online blackjack, but I know some people have a hard time trusting the software to deal a fair game. That's understandable and the live aspect goes a long ways in building trust between you and the casino.
Card Counting at Live Dealer Blackjack
So, one of the big questions regarding live dealer blackjack is whether or not card counting is possible. After all, you're playing with real cards and the deck isn't constantly shuffled like it is at regular online blackjack tables. Could you actually count cards and turn the edge in your favor?
The answer is mostly no. I say "mostly" because I haven't studied every live dealer game on the internet and cannot say with 100% confidence that it's impossible everywhere. However, the casinos at which I've played live dealer blackjack take certain precautions that make it impossible to gain an advantage.
For one, online blackjack sites are well aware of the risk presented by card counters. Their dealers are instructed to shuffle the deck before half the cards have been dealt. In other words, "deck penetration" is too low to achieve a reliable count. You simply won't see enough cards to gain any real advantage over the casino.
Second, online casinos aren't bound by the same laws that govern casinos in the real world. Many gambling sites explain in their terms and conditions that card counting is not permitted. Anyone caught card counting is subject to being banned and having their account balances confiscated. In the real world, casinos may ask you to leave but they cannot just confiscate your cash when they suspect you of counting.
Gambling sites can easily detect a single person counting cards. If you suddenly increase your wagers when the count is favorable, the software will alert someone who will then watch your play. If they believe you are counting cards, they can shut you down and leave you with no recourse.
Low penetration, a slow pace of play and the risk of being caught all make it very difficult to gain any worthwhile advantage over the casino. Now, it's possible you do you find a good game somewhere, but I haven't found it yet. It's best to save your card counting skill for the real world.
Wes Burns co-founded OnlineCasinoSites.com with a mission to help gamblers understand and navigate the regulated online casino market in all countries around the world.  Wes is a respected gambling journalist, working in the industry since 2008.