Something I've taken to doing lately is scouring the internet for interesting gambling studies, and another one pinged the radar today. This particular study was published in International Gambling Studies earlier this year and it discusses the gambling motivations and superstitions of gamblers from the United States, South Korea, China and Japan. More specifically, the study notes what drives gamblers to play and what casinos can do to cater to customers of different nationalities.
For example, we know here in the West that people can be pretty superstitions regarding the number 13. The number is so associated with bad luck that a large number of Vegas casinos skip the floor entirely. Check the elevator of any Vegas casino and there's a good chance you will see no option to visit the 13th floor. They often number the floors to go straight from 12 to 14.
The big Western gambling brands (think William Hill Casino) have firmly established themselves in the European countries and some are now looking East. We've all heard for years that the Asian market is ripe with potential. Note that In 2014, Macau's gambling industry dwarfed the total Las Vegas gambling industry by a factor of seven.
Operators in the West, both online and land-based, are well-acquainted with the various superstitions and oddities that make Westerners unique. Some are familiar with the basic Asian tendencies such as choosing the colour red for good luck, but there is still a lot of work to be done in fully understanding what motivates gamblers of specific nationalities.
Talking to Patrons at a South Korean Casino
The study discussed today was conducted by researchers at a land-based casino located in South Korea. Researchers went to the casino and specifically targeted American, Chinese, Japanese and Korean gamblers for a series of questions to find out what makes them tick as gamblers. It may also be worth noting that South Korean casinos are restricted to foreigners only (residents cannot play), so the Korean gamblers were those who now live abroad.
Researchers chose to do their work in a South Korean casino as they believe the country is prime for an uptick in gambling activity. The gambling market in South Korea is still relatively small in comparison to other gambling destinations due to restrictions on locals visiting casinos. Moreover, the majority of brick-and-mortar casinos earn most of their revenue from actual casino games.
However, researchers believe the South Korean gambling market is prime for growth thanks to the government's efforts to ease up visa requirements for Chinese visitors, an increase in overall Chinese wealth and the proximity of South Korean airports major Chinese cities such as Shanghai and Beijing. Furthermore, there are plans to build at lease one major resort that will be able to cater to both international visitors and locals along with an integrated casino for visitors only.
With that in mind, the people who conducted this study chose to focus on a particular casino in South Korea. They believe that if the industry does grow, competition will increase and operators will be smart to gain a better understanding of the superstitions and motives of gamblers from the United States, Japan, China and Koreans who live abroad.
What They Found
Researchers spoke to a total of 323 patrons in the lounge area on the casino floor. They specifically chose patrons from the United States, Japan, China and Koreans living abroad in order to focus on the nationalities that contribute the most to South Korea's casino industry. Americans consisted of 16.1% of respondents, Chinese 31.3%, Japanese 33.1% and Koreans living abroad 19.5%.
Here's how those surveyed answered basic questions: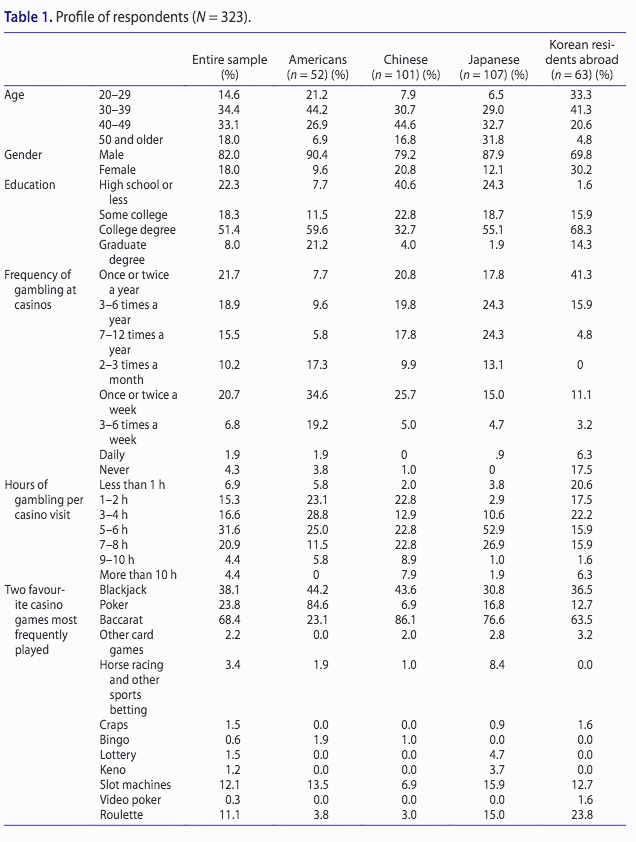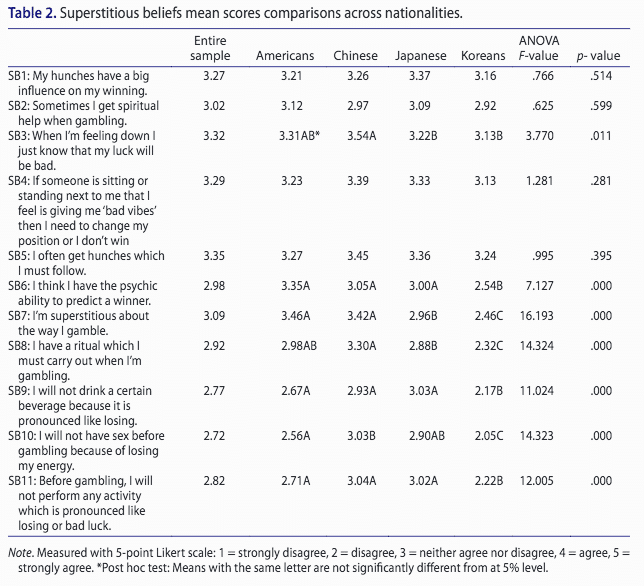 In conclusion, the survey led to some interesting findings:
American and Chinese gamblers are more superstitious than Japanese gamblers
Japanese gamblers are more superstitious than Korean gamblers
Chinese gamblers were the Asian group most likely to feel that their mood has an impact on their luck when gambling
Chinese gamblers were also more enthusiastic than other Asian groups in adopting rituals to improve their luck
Chinese gamblers were more likely to go for high risk, high reward propositions
The culture and area around the casino were more important to the Chinese respondents than to the other three groups
Japanese gamblers appear to be the most motivated group to gamble as an escape from the mundane
Japanese and Chinese gamblers were both more motivated to gamble as a means of tension release
Blackjack, poker and baccarat were the three most popular games for the survey group as a whole
Lastly, researchers offer some advice for operators considering doing business in South Korea:
Cater to Chinese players with non-gambling activities, discounts and rewards clubs
Cater to Korean gamblers by offering them the ability to win a lot of money (Koreans rated the potential of a big payday as a strong motivator for gambling)
Cater to Japanese players by giving them an experience that serves as an escape, such as fantasy and celebrity-themed slot machines
Although this study and these recommendations come from a brick-and-mortar perspective, it's easy to imagine how online casino sites could also tailor their offerings to customers from the Asian region. Understanding how players think and what motivates them to gamble could be hugely advantageous to companies that wish to make a serious push into the Asian market.
Wes Burns co-founded OnlineCasinoSites.com with a mission to help gamblers understand and navigate the regulated online casino market in all countries around the world.  Wes is a respected gambling journalist, working in the industry since 2008.